Crane kit for end carriage
General Details
Order Enquiry
General Details
OVERVIEW
1. Gear box is made of high stress cast iron (FC25), compact and rugged.
2. The gears are made of Cr-Mn-Ti alloy steel, and manufactured by CNC machinery, wearable, high accuracy.
3. Insulation class F can reach more than 1500v, compact-sized, powerful output.
4. Direct-type electromagnet brake with brake pads of non-asbestoses and copper wire, safe, durable, smooth braking.
5. Low noise, low power consumption, low failure rate and light weight.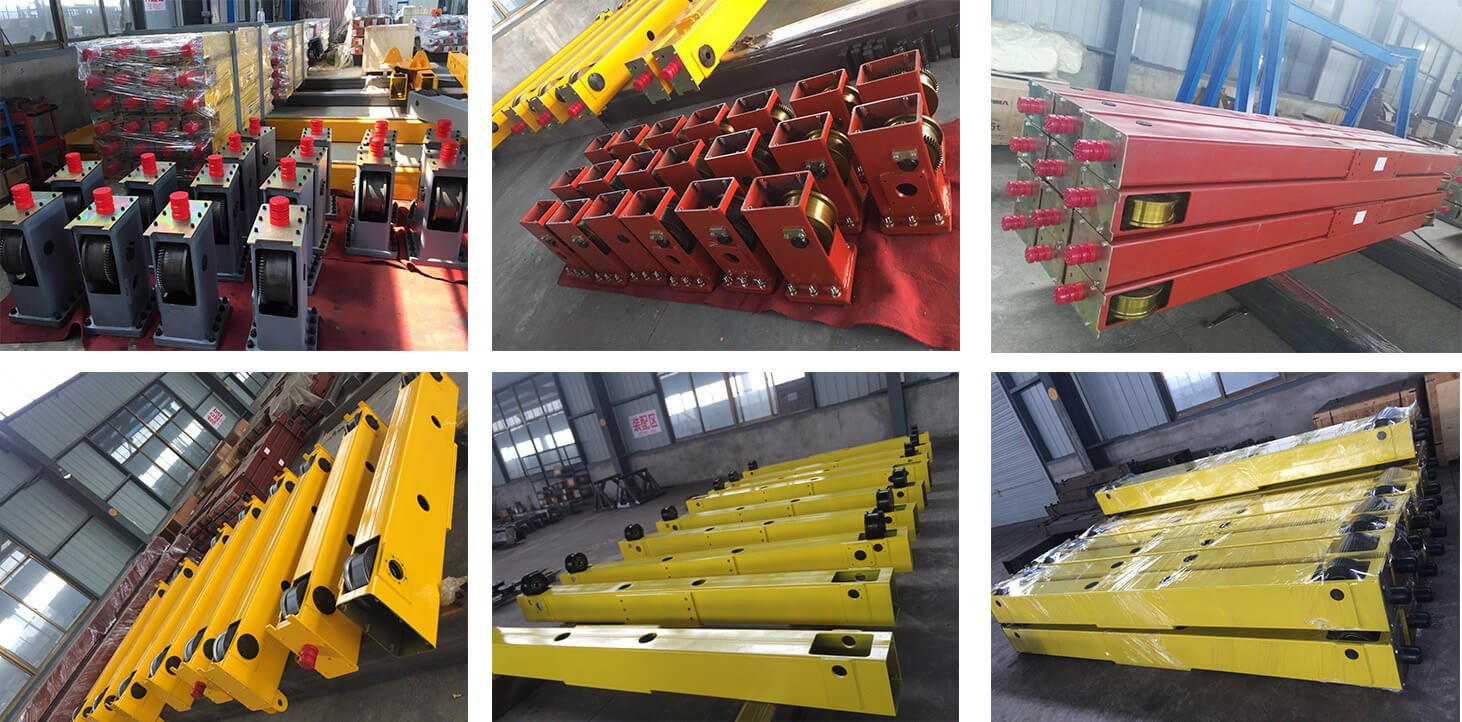 Technical data
Model
Power
Poles
Output
Module
Reduction
Ratio
Reduction Speed
(r/min)
Voltage
Weight
(kg)
Length
(mm)
50HZ
60HZ
BM-030
No Buffer
0.25KW
4P
M3
M3.5
M4
10:01
150
180
3P,380V
11
368
0.25KW
6P
90
120
0.4KW
4P
150
180
BM-050
With Buffer
0.4KW
4P
M3
M3.5
M4
8.5:1
176
210
16
394
0.37KW
6P
115
140
BM-050QX
With Buffer
0.75KW
4P
176
210
0.6KW
6P
115
140
BM-100
With Buffer
0.75KW
4P
M3
M3.5
M4
M5
7.7:1
188
228
25
442
0.6KW
6P
123
148
0.4/0.13KW
4P
188/62
228/75
BM-100QX
With Buffer
1.1KW
4P
188
228
0.75KW
6P
123
148
BM-150
With Buffer
1.1KW
4P
M3.5
M4
M5
13:01
114
135
47
561
0.75KW
6P
67
92
0.6/0.2KW
4/12P
114/33
137/45
BM-150QX
With Buffer
1.5KW
4P
114
135
1.1KW
6P
67
92
BM-200
With Buffer
1.5KW
4P
M4
M5
M6
16:01
92
110
66
627
1.1KW
4P
92
110
1.1KW
6P
61
73
0.75/0.25KW
4/12P
92/30
110/36
BM-200QX
With Buffer
2.2KW
4P
92
110
1.5KW
6P
61
73
BM-300
With Buffer
2.2KW
4P
M5
M6
16:01
92
110
82
645
1.5KW
6P
61
73
1.5/0.5KW
4/12P
92/30
110/30
Order Enquiry
Contact us by email shanyan4@hoist-cranes.com or WhatsAPP +8615909399991