The small weight and compact design allow easy installation. KDJ winches are equipped with the automatic top limiter which automatically stops the winch when the cable is reeled up to a limit. The reliable brake provides bystry and safe braking. Winches are equipped with the reliable waterproof panel (IP65) with the button of the emergency stop.
General Details
Order Enquiry
General Details
OVERVIEW
KDJ electric winch are intended for lifting and moving freights on building sites, production, in warehouse economy, at the enterprises of services of service and in life, and also for a complete set of lifting construction devices.
KDJ winches are assembled according to the scheme "Engine + Drum Reducer" which provides high efficiency at small energy consumption.
The reel reducer is assembled on the basis of the planetary tooth gearing manufactured of the high carbon steel which underwent heat treatment in the pig-iron case. The reel is manufactured from carbonaceous or of stainless steel and has high wear resistance.
The drive a drum reducer is carried out from the engine by means of a shaft via the connecting coupling that provides smoothness of the course under loading.
The electric motor of the KDJ winch is equipped with the built-in brake which works at interruption in supply of tension on engine windings. The winch is also supplied with the automatic top limiter which stops the winch when the cable is reeled up to a limit.
DETAILS
1.Drum transmission structure
It adopts planet gears transmission way.Coupling leads the drum turn directly.And it's very to replace rejected wire rope or change the rotation direction of wire rope.
2.Wire Rope Fixing
Add one PT screw on the drum,it's more safer than normal wire rope fixing.it can ensure no escape of wire rope from the drum.
3.Brake mechanism
It adopts electromagnetism brake,Select wearable brake slice.it's very simple,no need to adjust the clearance,Brake will automatically apply in the event of power cut.It can control the drop distance of heavy load,safe and reliable.
4.Gear Box
Made of ductile cast iron FCD-45# steel.Durable and nonbreakable.
5.Speical motor
Insulated B,with the features of big start torque,small inertia,lower temperature rise,it can work frequently for a long time.
6.Driving Gear
Made of high-quality steel.Pass heat treatment and high precision process.It has features of wearable,low noise,high driving efficiency and good performance.
7.Machine Fixture
Standard channel steel welded.It's convenient used for building site, storage and port,etc.
KDJ electric winch drawing: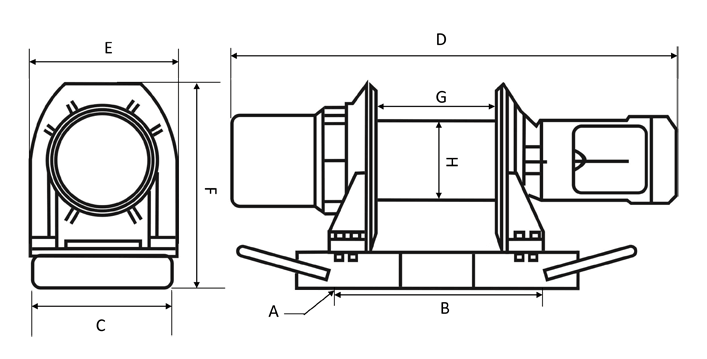 Technical parameter
Model
Load rated(kg)
Speed(m/min)
Motor(hp*p)
Standard lifting height(m)
Steel cable(Ømm*m)
Power supply
KDJ-200E
200
10-15

12-18

0.8*4
29
6*30
1-Phase

120v,220v,230v,240v

KDJ-250E
250
10-15

12-18

1.0*4
29
6*30
KDJ-300E
300
10-15

12-18

1.5*4
29
7*30
KDJ-500E
500
10-15
3.0*4
58
9*60
2-Phase

380v

415v

KDJ-750E
750
12-18
4.0*4
58
9*60
KDJ-1000E
1000
12-18
5.5*4
58
11*60
KDJ-2200E
2200
7-12.5
7.5*4
97
16*100
KDJ-3200E
3200
6.3-8.8
7.5*4
97
18*100
KDJ-5000E
5000
8.0-12
15*4
192
22.4*100
KDJ-10000E
10000
7-11
30*4
235
32*250
Order Enquiry
Contact us by email shanyan4@hoist-cranes.com or WhatsAPP +8615909399991