Foot-mounted wire rope hoist (1/2 rope reeving)
Foot-mounted wire rope hoist (1/2 rope reeving)
Electric wire rope hoist is a kind of special lifting equipment, which is often installed in the electric overhead crane and gantry cranes to carry goods. Wire rope hoist are often consists of the engine, transmission mechanism, rolling drum, hooks, chain hoist and so on. 
General Details
Order Enquiry
General Details
OVERVIEW
This kind of wire rope hoist has newest designing with quadrate outline, modularized construction, good unitized capacity. The fundamental mode chang combine is very convenient and multiform. The special drive composition melthod is very stationary which save the usual long transmission shaft.
The reducer use planetray speed-down drive which have high effective, low yawp long using life. Unique column rotor-taper breaking wheel motor with low yawp, disk reliable. With the advance guide rope technology from overseas, unit is very reliable and safty.
High precision and super mechanical spin limiter high quality control electric component with low malfunction. The products are complied with the up to date international standard.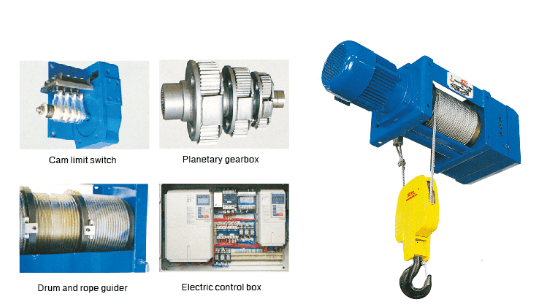 DETAILS
Sheel:
1. The JCYC electric hoist is made of light aluminum alloy shell, light but hard.
2. With cooling fin, easy and quick Bring the Heat out.
Break System:
1. Side Magnetic Braking Device, ensure lock the hoist.
2. Mechanical braker, Dual braking system, much safer
Limit Switch:
With up & down Limit Switch,to prohibit the chains from exceeding for safety.
Electromagnetic contactor:
1. With Schneider Electric (TESSIC), can be used safely under high frequency.
2. Can be installed Variable-Vrequency Drive (VFD Electric) Can be suitable for Single Phase Power supply.
Inverse phase sequence protecting device:
It is sepcial electrical installation which controls the circuit not to work in case of wiring error in the power supply.
Gear:
The gear made of alloy steel, Through the heat treatment.
 Level of Protection Grade(IP Grade):
1. Hoist IP Grade: IP54
2. Push Buttom IP Grade: IP65
Power supply:
All kinds of voltage can be custom-made. 220V-660V, 50HZ/60HZ, 3P.
Working Grade:M5
Features:
1: SH model hoist is used the planetary reducer to ensure the high transmission efficiency, low noise, compact structure, easy to install
2: The lifting hook is designed with a blocking device to avoid the slipping of rigging accidentally.
3: The motor with thermal protector device, when the temperature is higher, the power will be cut off to protect the motor automatically.
4: SH model hoist uses the cam limit switch to reach high limited accuracy.
5: More safety and reliable with overload protection.
Technical parameters
Type
Capacity(kg)
Working group
Lifting speed(m/min)
Motor power(kw)
Travelling speed(m/min)
Travelling motor(kw)
SH3 (2/1A)
1000
M4
8.4

8.4/2.1

1.5

1.5/0.4

20

20/6.7

0.37

0.37/0.12

SH4(2/1A)
2000
M4
7.2

7.2/2.4

3

3/1

20

20/6.7

0.37

0.37/0.12

SH5(2/1A)
3200
M4
7

7/1.6

4.5

4.5/1.1

20

20/6.7

0.37

0.37/0.12

SH6(2/1A)
5000
M4
7.6

7.6/1.8

7.5

7.5/2.0

20

20/6.7

0.37

0.37/0.12

SH7(2/1A)
8000
M4
8

8/2

13

13/3.4

20

20/6.7

0.37

0.37/0.12

SH8(2/1A)
10000
M4
6.4

6.4/1.6

13

13/3.4

20

20/6.7

0.37

0.37/0.12
Order Enquiry
Contact us by email shanyan4@hoist-cranes.com or WhatsAPP +8615909399991