Especially,its unique overloading safety protection setting and electrical machine hot protection setting make sure of the higher reliability of this product.
General Details
Order Enquiry
General Details
OVERVIEW
SK model electric chain hoist, the housing of which is made by alumium alloy, is novel and compact in structure, delicate and exquisite in appearance, in low sound when operating. In addition, the alumium housing makes it crossive-resistent and efficient heat disssipation. The internal gears are of exquisite workmanship, and the high temperature technology make it tough. It is both safe and durable and can be used in factory, workshop, wind power, logistic, dock and construction.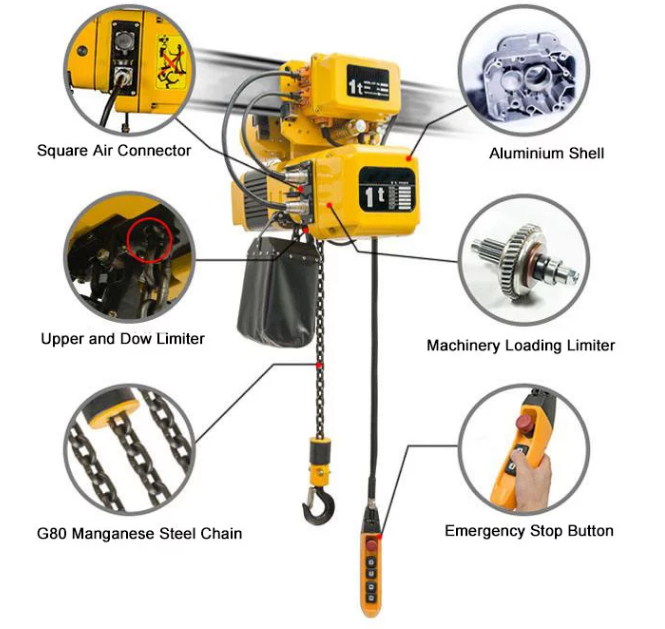 DETAIL
1.Clutch
As emergency overload protection,Clutch will functions and motor will slip when abnormal load
2.Cooling fan
Cooling fan prevent motor over heat when long time continuous usage.Hollowed-out fan cover and cooling fin not only enhance fan heat dissipation capacity,but make fan operated more quietly.
3.Limit switch without guide frame
No guide frame ensures hoist lift and drag the weight diagonally.
4.The shell
Except for connecting case,all other parts hoist body adopt aluminum,light weight,but exceptional rigidity,as well as high dust-protection and water-protection
5.Side magnetic braking device
The magnetic force generator is the latest design which is featured for generating magnetic force.It allows instant brake as soon as the electric power is cut off.Thus the braking safety while loading is guaranteed.
6.Dual speeds hoist adopt built-in inverter
Adopt built-in inverter to make hoist in Dual speeds will reduces swing in operation,helps hoist start steadily and stop slowly.The speed ratio can be adjusted,the standard speed ratio is 4:1,if special requirement,please inform when inquiry.
7.Antiphase protector
Advatages : When power-supply wiring mistake, the control circuit is unable to move to protect motor
from being berned.
8.Hooks
It is hot forging with perfect strength that is hard to break.The operation safety of the lower hook is ensured by its 360 degrees rotation and safety tongue piece
9.Chain
High grade :It is made of Japanese FEC80 ultra strong heat treatment alloy steel.
Advatages: It is safely approximately when used in the rain water, the sea water, under the
chemical and other bad conditions.
10.Hand switch
An ergonomic shape design ensures hand switch operated friendly.The button with a light soft operating sensation satisfied the operator not fatigued after a long period operation
11.ISO
M4 /FEM: 1AM(M5 customized available)
Insulation grade: F
Technical data(single speed)
Model
Sk0.25
Sk0.5
Sk1
Sk1.5
Sk2-1
Sk2-2
Sk2.5
Sk3-1
Sk3-2
Sk5
Capacity(t)
0.25
0.5
1
1.5
2
2
2.5
3
3
5
Lifting speed(m/min)
9.2
8.3
6.3
8.5
6.9
3.2
6.6
6.6
4.2
3.3
Motor power(kw)
0.56
0.9
1.5
3.0
3.0
1.5
3.0
3.0
3.0
3.0
Rotation speed(r/min)
1440r/min
Insulation grade
F
Power supply
3-phase/220v-380v
Control voltage
24v/36v/48v
No.of chain
1
1
1
1
1
2
1
1
2
2
Spec.of load chain
4.0mm
6.3mm
7.1mm
10.0mm
10.0mm
7.1mm
11.2mm
11.2mm
10mm
11.2mm
Technical data(frequency transformer)
Model
Sk0.25
Sk0.5
Sk1
Sk1.5
Sk2-1
Sk2-2
Sk2.5
Sk3-1
Sk3-2
Sk5
Capacity(t)
0.25
0.5
1
1.5
2
2
2.5
3
3
5
Lifting speed(m/min)
0.92-9.2
0.83-8.3
0.83-8.3
0.85-8.5
0.69-6.9
0.32-3.2
0.66-6.6
0.66-6.6
0.42-4.2
0.33-3.3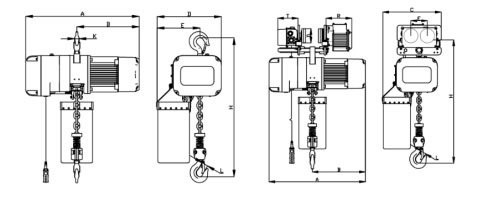 Main dimension(hook suspension)
Model
Capacity(t)
H(mm)
A(mm)
B(mm)
D(mm)
E(mm)
K(mm)
L(mm)
SK0.25
0.25
354
475
260
290
190
20
28
SK0.5
0.5
380
510
265
305
200
20
28
SK1
1
410
620
326
295
175
20
34
SK1.5
1.5
615
745
410
370
230
30
40
SK2-1
2
615
745
410
420
280
30
40
SK2-2
2
610
620
328
295
210
30
40
SK2.5
2.5
615
745
410
420
280
35
48
SK3-1
3
615
745
410
420
280
35
48
SK3-2
3
820
745
410
420
345
35
48
SK5
5
845
745
410
420
345
44
48
Main dimension(with electric trolley)
Model
Capacity(t)
H(mm)
A(mm)
B(mm)
C(mm)
D(mm)
E(mm)
L(mm)
R(mm)
T(mm)
SK0.25
0.25
380
475
260
355
55
111
28
200
156
SK0.5
0.5
400
510
265
355
95
111
28
200
156
SK1
1
430
620
326
350
95
111
34
200
156
SK1.5
1.5
640
745
410
450
110
127
40
200
156
SK2-1
2
640
745
410
450
110
127
40
200
156
SK2-2
2
700
620
328
370
110
127
40
200
156
SK2.5
2.5
650
745
410
450
125
140
48
246
156
SK3-1
3
650
745
410
450
125
140
48
246
156
SK3-2
3
790
745
410
515
125
140
48
246
156
SK5
5
865
745
410
545
140
156
48
246
156
Order Enquiry
Contact us by email shanyan4@hoist-cranes.com or WhatsAPP +8615909399991