Crane kit for end carriage
General Details
Order Enquiry
General Details
OVERVIEW
End carriage wheel kits, is an essential parts for top run end carriage, it includes geard wheels, plain wheels, shafts(axles), bearings, spacers and keepers.Which is also called end carriage wheels, crane wheels, wheel kits, end truck wheels, end truck wheel kits, steel crane wheels.
Crane wheel assembly are technically advanced and successfully used in different industries like steel plant, rolling mill,cement plant, fertilizer plant, paper mill, chemical industries etc.
Forged crane wheels are available in crane potation hardness up to 40 Rc including our standard heat treatments.
Crane wheels are also able to be deep hardened for heavy wear or load requirements.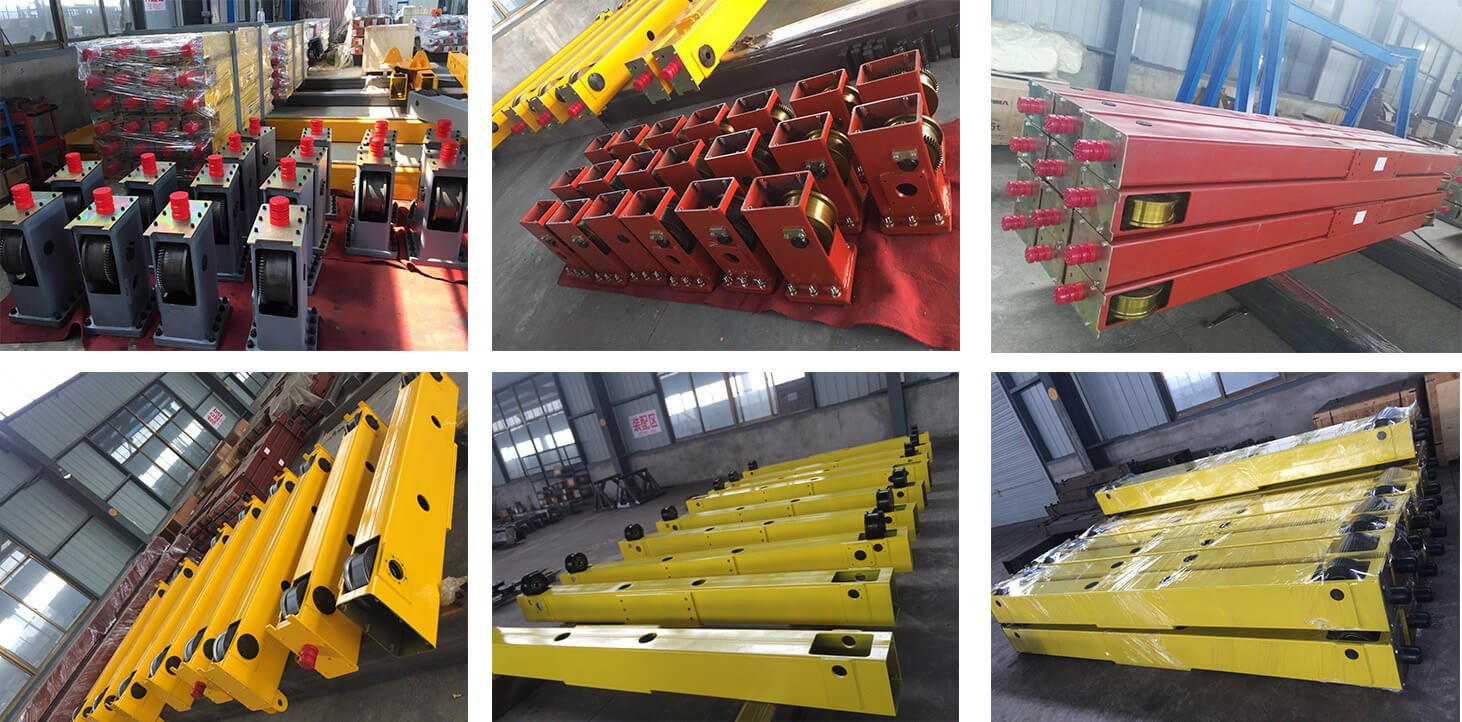 Technical data
Model
Wheel Load
(Kgs)
Bearing
Gear Teeth
Material
Square Bar
(mm)
HRC
Q,ty
Weight
(kg)
GW150/PW150
2100
6306Z
M3.5x40T
S45C
32
50±5
2PCS
37
GW180/PW180
3200
6308Z
M3.5x49T
S45C
38
50±5
2PCS
57
GW198/PW198
4900
6308Z
M3.5x55T
S45C
38
50±5
2PCS
72
GW250/PW250
5700
6309Z
M4x60T
S45C
44
50±5
2PCS
136
GW300/PW300
8100
6310Z
M4x73T
S45C
44
50±5
2PCS
175
GW345/PW345
9700
6311Z
M5x67T
SC49
55
45±5
2PCS
319
GW430/PW430
15000
6314Z
M5x84T
SC49
55
45±5
2PCS
542
GW545/PW545
19000
6316Z
M5x107T
SC49
63
45±5
2PCS
872
Order Enquiry
Contact us by email shanyan4@hoist-cranes.com or WhatsAPP +8615909399991